ABOUT ABSOULUTE ORGANIZING SOLUTIONS
Our mission is to:
Provide confidential, non-judgmental services
Form a collaborative relationship
Enhance your personal and business lifestyle using a creative and customized approach
Bring Calm back to your SOUL
We are proud of our ability to make an impact our clients can see and feel.
An organized home and/or office allows our clients to:

Increase work productivity
Manage files, papers, and projects
Locate items quickly and easily
Impress family, clients, and staff
Relax
Reduce stress
A professionally managed move:

Ensures less stress
Provides coordination throughout the entire move process
Coordinates important vendor relationships
Oversees an orderly packing, unpacking & settling-in process
Minimizes downtime
Better information systems lead to:

Increased employee efficiency and productivity
Fewer delays and/or failures due to missing information negatively impacting work product
Better project management
Increased ability to handle incoming items
Time savings organization-wide:

No more lost or missing files
Increased employee productivity
Increased net revenues
Eliminate clutter
Absoulute Organizing Solutions Capabilities – PDF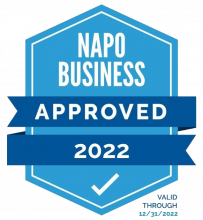 Vernestine Laughinghouse
President  & Owner
Absoulute Organizing Solutions
As the President and Owner of Absoulute Organizing Solutions, Vernestine is responsible for managing all aspects of the company's move/relocation, records management and professional organizing services.
She is responsible for developing strategies and logistics for the company's business and residential clients.
Prior to starting Absoulute Organizing Solutions, Vernestine works in the IT field as a database manager and systems analyst for 12 years.
Vernestine holds a Bachelor of Science Degree in Computer Science from North Carolina A&T State University and a Master of Science Degree in Information Systems from Strayer University.
Vernestine is a member of Commercial Real Estate Women (CREW) where she serves on the Membership Committee with CREW-DC and the National Association of Productivity & Organizing Professionals (NAPO). She is a Certified Professional Organizer® and volunteers as a NAPO Ambassador.